Next Generation Endpoint Security
Next Generation Endpoint Security
"Precognitive Defense" Technology

"Precognitive Defense" technology allows for highly precise protection against known and unknown malware or vulnerability attacks without depending on pattern files like traditional antivirus software, using proactive detection logic.

Endpoint Multi-Layer Protection

FFRI yarai captures extensive attack flows through multiple engines and provides multi-layered endpoint protection by static and dynamic analysis. Combined with traditional antivirus software, FFRI yarai completes a robust defense in depth strategy.


EDR Features

The management of Threat Search, Reporting, and Threat Removal is possible with a simplified operation. EDR features are included as standard features of our next generation endpoint security software, FFRI yarai, with no additional charge.
Going Ahead of Unknown Threats With "Precognitive Defense" Technology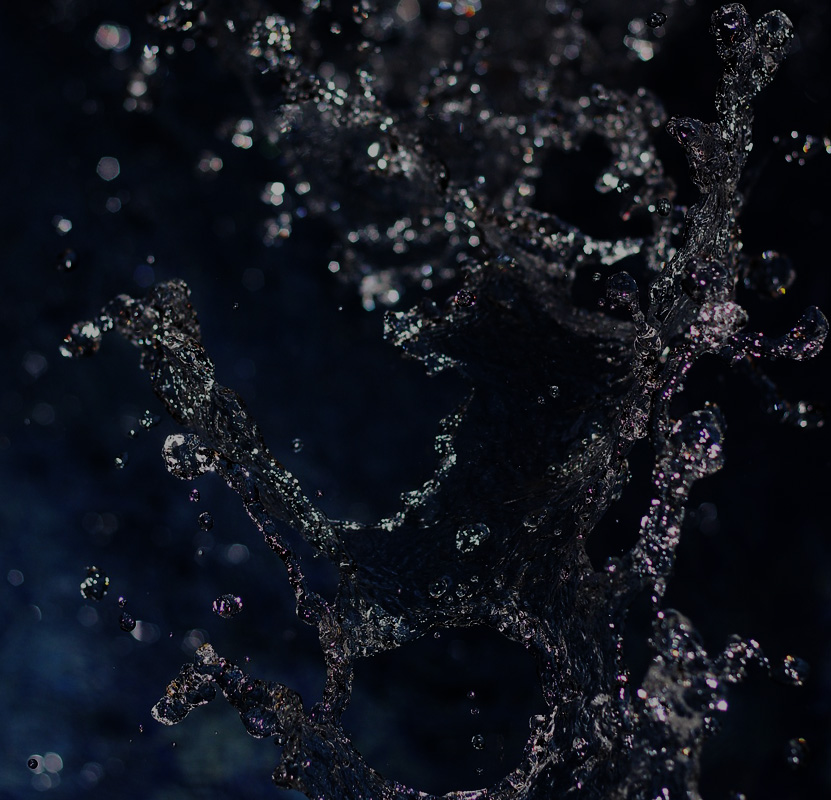 Legacy Endpoint Security Is Not Sufficient
The "Pattern matching" detection used by legacy antivirus software distributes and applies pattern files to all systems after vendors acquire malware (malicious programs) and complete the process to analyze, create and verify them. The pattern matching method is not sufficient to protect against not only "unknown threats", but also new malware that could be mass-distributed at once.
Next Generation Endpoint Security Solves It
FFRI Security has pioneered precognitive defense technology, which provides proactive protection against both known and unknown threats by extracting the "cause" leading to cybercrimes, assuming future attack methods, and taking advantage of machine learning technology.
Precognitive Defense can keep your Endpoints safe.
Eliminate various vulnerability attacks and malware threats before damage occurs.
Demo
Protect against typical APT attacks with FFRI yarai
FFRI yarai Track Record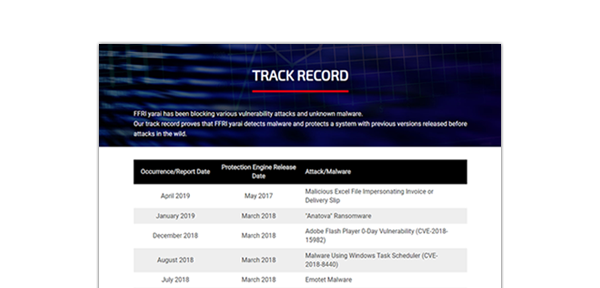 Next generation endpoint security solution, FFRI yarai, has blocked various vulnerability attacks and unknown malware.
Our track record shows malware detected and blocked by FFRI yarai.
FFRI yarai's detection engines can detect malware with versions released prior to exploitation.
"FFRI AMC" Management Console For Simple Security Operation
Simple Management & Audit
FFRI AMC management console provides simplified security management to prevent known and unknown malware such as advanced persistent threats and ransomware.
No Additional Cost
No additional cost is required for FFRI AMC management console. Our simple EDR feature is provided as a part of the standard suite.
Information Leakage Protection and Efficient Security Monitoring / Operation for Entire Organization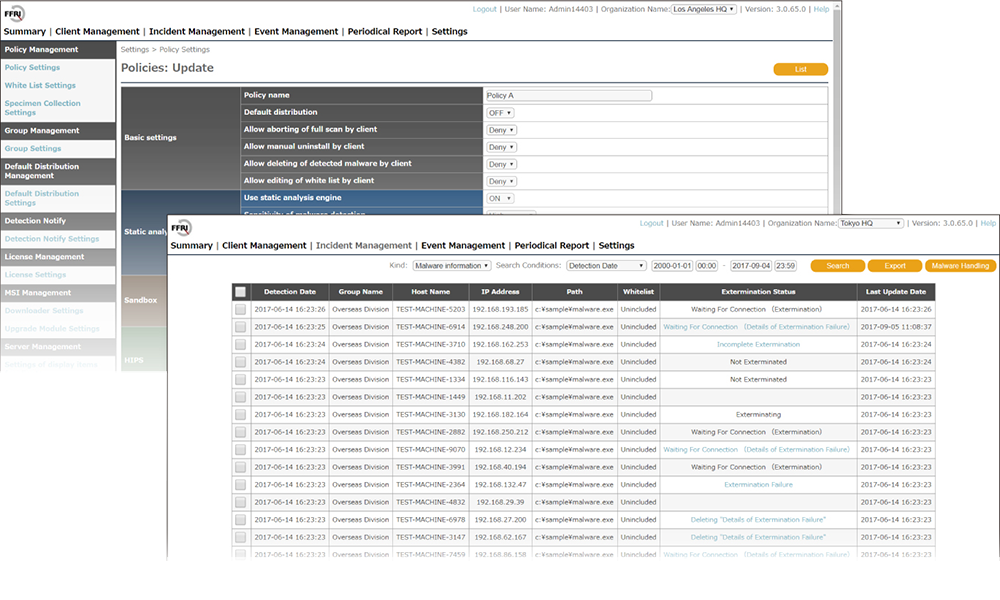 Next generation endpoint security solution, FFRI yarai, offers flexible scalability from a small office to a large network with "FFRI AMC" management console. "FFRI AMC" allows for central management of clients FFRI yarai is installed on thereby providing features to support your administrator's day-to-day operation, such as client management, incident management, sample collection, policy management, and whitelist management.
Main Features of FFRI AMC Management Console
Client Management
Central Management With Policy Distribution
License Management / Update Management
Incident Management
Windows Defender Log Management
Sample Collection & Log Collection Features
Intrusion Verification Feature
Device Isolation
Whitelist Registration Feature
Multi-Tenant Support
Single Management of Japanese / English Versions
Migration From Legacy Management Console "FFRI EMC" Using WebUI
"Threat Hunting, Removal, Isolation" – Simple EDR Features
Performing periodic checks to determine if there is a hidden threat within your organization based on latest threat information, visualizing it and generating a report simultaneously – Our EDR feature supports your incident response measure with its simple operation and block threats and affected endpoints in the event detection occurs.
Hunting Feature
By providing the threat information (malware hash value) to "FFRI AMC", it verifies if the threat exists within your organization.
Response Feature
After malware is found by Hunting feature, our EDR allows to remove it and isolate the machine confirmed with malware.